Feb 25, 2018
Way back when, back in my misogynistic days of a yeshiv bochur, we used to joke about girls in seminary learn for the "MRS degree" and probably take courses in how to make cholent, cook chicken, do sponja, etc.
That's what us stupid yeshiva bochurs used to joke about. The truth is the women learn a lot in seminary, and in some seminaries they might even be learning more than some of the boys in some yeshivas, and they definitely learn a lot more than the guys in most topics (including halacha, Neviim, Eretz Yisrael, etc) other than gemara!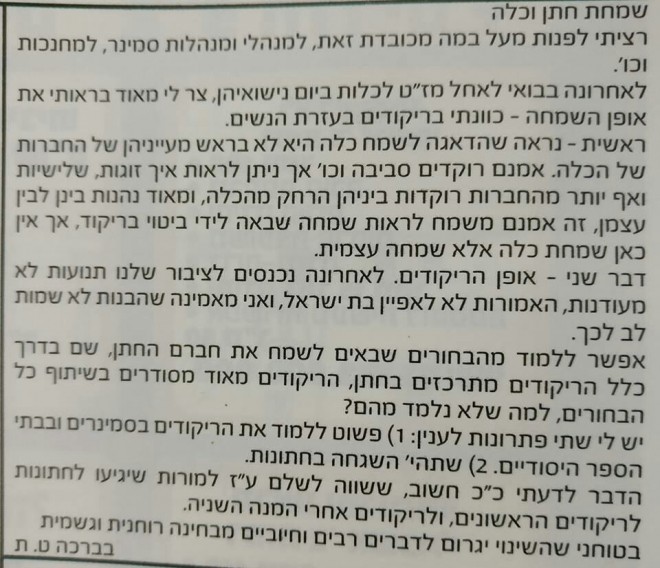 Anyways, a new course might soon be opening up in the seminaries, but it might just be in the more Israeli seminaries. In case you thought they do not get inculcated enough with lessons and guidelines about tzniyus, a letter-writer thinks the seminaries need to teach the young women how to dance in a tziyusdigge way. This woman thinks that the young women dancing at weddings, friends of the kalla, are dancing with dance moves that are not delicate, not refined.
The writer says that she has recently seen dance moves enter our tzibbur - moves that are not refined and are not appropriate for a bas yisroel.
Another problem she has is that sometimes additional small circles will open up of women dancing with just a few friends further away from the kalla. She says that this shows these women are dancing not to make the kalla happy but to enjoy themselves.
She says the women should learn from the men dancing. Tghe men, she says, all focus their daning on the chosson and the dancing is very organized.
As a solution she makes two recommendations:
1. Teach proper dance in the seminaries and in the high schools
2. have hashgocha on the dancing at weddings
source:
Haredim10
This was too funny to not bring here, even if it is just one crackpot suggesting it. Hopefully she won't turn it into a movement and weigh down more on everyone's lives, as if people don't have enough people watching over them already...
1. I want the job of being the mashgiach at these weddings. How does one apply?
2. such hashgocha could come in various forms:
Rabbanut hashgocha
on dancing would have the mashgiach only showing up once in a while. The mahsgiach might or might not dance along with the dancers, depending on if the mashgiach works for the Rabbanut but does not trust it himself (herself?) or if the mashgiach also trusts the Rabbanut.
The
Eida mashgiach
will have the dancing end at 7pm, and of course wont participate. The only thing allowed by the Eida hashgocha will be a shuffle that includes feet never reaching a point of being further than 3cm apart.
The
Chabad hechsher
will require the dancers to sing "yechi" at least once an hour, and maybe put on tefillin if they can expand to the mens side. The Chabad "hot Chanis" will have the most freedom of all the various groups.
what other hashgochos would you describe?
3. soon people will ask what hashgocha does the dancing at your wedding have before they decide to go or not
4. teaching wedding dance at the seminaries would definitely be a good addition for the seminaries that do offer the MRS degree
5. Why is she looking at the mens side of the dancing to take example from? this seems very not tzanua to me.
6. I don't know how much she looked or did not look, but I have been to plenty of weddings where the yeshiva guys danced pretty wild with modern moves. I am not sure she really wants her girls to take example from the guys
7. as an old fogey by now, the extra circles on the side are often the only way we can participate. Sometimes the yeshiva guys are running in the circles so fast, and so uncoordinated with each group of two or three guys thinking they have the greatest idea to spice it up and doing their own thing and breaking up the circles every couple of minutes. the side circles are often the only way we slower people can participate, and our intention is still to celebrate with the chosson and kalla and their families. And the added dancing, even if not in the circle immediately surrounding the chosson is still adding to the simcha.
האם זהו המקצוע החדש בשוק החתונות החרדי? משגיחת ריקודים.
במכתב שהתפרסם באחד מכלי התקשורת החרדיים, פונה הכותבת אל מנהלי ומנהלות הסמינרים ומתריעה על מגמה מצערת, לדבריה, לפיה חברותיה של הכלה רוקדות ב'תנועות לא מעודנות'.
לדברי המעוררת, "לאחרונה נכנסים לציבור שלנו תנועות לא מעודנות האמורות לא לאפיין בת ישראל ואני מאמינה שהבנות לא שמות לב לכך".
אז מה היא מציעה? ללמד את הריקודים בסמינרים ובבתי הספר ושתהיה השגחה בחתונות.
היא מוסיפה כי לדעתה מדובר בעניין חשוב "ששוה לשלם עליו למורות על מנת שיגיעו לחתונות לריקודים הראשונים ולריקודים אחרי המנה השניה".
------------------------------------------------------
Feb 22, 2018
A Guest Post by
Saraya Ziv
www.maskforwinter.com
The Breakfasting Cats of the Kotel
This dawn visit to the Western Wall I'm in the service area slipping cans of cat food under a trash bin when I hear a soft swish, and freeze. Rising from behind a dumpster is a woman, also religious, but, unlike me, elegantly clothed. She hoists a shush finger, then crooks it. I walk to where she beckons. From a leather satchel she hands me pouches of fancy food and pink plastic plates. In silent conspiracy, we cater breakfast for the cats of the Kotel.
We rise from our crime to find a young policeman standing at military attention. I'm wondering if he'll read us our Miranda rights or just demand don't move hands up while he calls for reinforcements. The lady says pooof, dusts off her skirt, and converses easily with the cop, who replies quietly, his face working. They speak Hebrew with different natal cadences; I understand nothing. The policeman watches the woman shoulder her satchel and purse. He looks at us doe-eyed and says the only thing I get, which has no congruent English analogue, "All honor to you ladies. All honor to you." The three of us walk off separately, each glancing back at the breakfasting cats of the Kotel.
After morning prayers as I wait at the Kotel Plaza bus stop, my friend's husband, Jake, appears nearly nose to nose and says, "For the third time, GOOD MORNING."
I'm so absorbed in my dawn encounter that I blab the whole tale to Jake, who lets the coffee in his cup get cold as he listens. At story's end, it occurs to me that Jake probably thinks I'm nuts. I start to apologize for the nine yard yack when he shakes his head.
"Every morning after services the rabbi in my synagogue gives a lecture in Talmud. About a month ago a dog, a big mutt, walked in and parked himself at the rabbi's feet. It was pandemonium. Some of the guys freaked, two kids ran out screaming. Rabbi S. banged on his lectern until he was blue. Finally we shut up. 'They're my feet, why should it bother you?'
"After a week, one man decided the dog was thirsty. He bought a heavy bowl. Every morning he fills it with fresh water and leaves it under the sink in the coffee room. This bothered my uncle who kept saying it's not right, it's not right. I finally asked him what's not right, and instead of answering he made me drive him to the other side of Jerusalem. We bought a humongous bag of dog food and another bowl. Now we all chip in to feed Sugar."
I ask how this dog got his name. Jake does not look shy, embarrassed, or sheepish; he takes the question straight. "His name is Sugar because he's a sweetie."
Walking towards me with another woman is my partner in crime. Her friend is carrying on in interminable Russian; my partner is rolling one hand in an ellipsis (get on with it…). When she sees me, she winks.
Jake nods. "He comes every day. And he's cute; he eats, but he always leaves some food over."
I tell Jake that is not normal behavior for a dog. He dumps his cold coffee. His eyes narrow. His look says, you know nothing about animals.
------------------------------------------------------
Feb 21, 2018
Today's news has an announcement that the opening of new high speed rail line will be delayed by half a year in light of the issues recently raised of security flaws in the system.
That is bad news in general, but the target date of Erev Pesach was considered unrealistically ambitious anyway. The good news is that it means the line won't be opened too early and lead to some sort of disastrous tragedy.
There are two interesting aspects to this:
1. MK Yaakov Asher (UTJ) compared the delays due to safety and regulatory matters to the need to work on the rail lines on Shabbos to avoid delays. Asher finds it unacceptable that they will delay the new rail line just like that for 6 months due to regulatory issues but Shabbos isn't considered a valid reason to delay the line and take longer to build it. He does not seem to get that the people behind it don't care about Shabbos or about what he thinks about Shabbos. To them it is just another day of the week that they are waiving the right to not work in order to speed up the work on the line.
2.
Behadrei's reporting
on this calls it a "blow to the mechalelei shabbos". I am not sure why ti is more of a blow to the secular people who don't keep Shabbos than it is to religious people. All sorts of people, Jews and non-Jews, religious, secular and Haredi alike would have used this train and will be inconvenienced by its delay. The delay is a blow to everyone, and is good (from a safety perspective) for everyone.
------------------------------------------------------